WagMore Veterinary Care
Wellness and Acupuncture
················································
Vicki Kucia DVM, CVA
WagMore Veterinary Care
Wellness and Acupuncture
·····································
Vicki Kucia DVM, CVA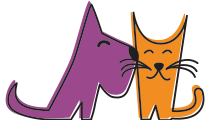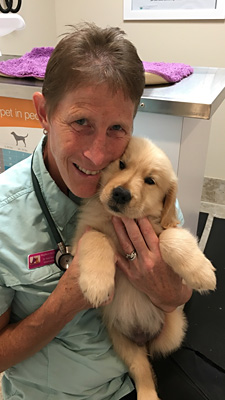 Dr. Vicki Kucia is a Veterinarian and certified Veterinary Acupuncturist. She received a Doctorate of Veterinary Medicine from Tufts University School of Veterinary Medicine with a focus in small animal medicine and pain management. She trained in Acupuncture and Traditional Chinese Veterinary Medicine (TCVM) at the Chi Institute of TCVM.
Dr. Kucia has served the Central Massachusetts area as a veterinarian since graduation. She is excited to open WagMore Veterinary Care offering Wellness and Acupuncture, after years of ownership at an animal hospital in Uxbridge, MA. "I wanted to leave the faster paced hospital setting and be able to spend more time with my clients and their pets. Wellness and Acupuncture are an art which can not be rushed. WagMore is not an appointment driven practice, allowing us more time to spend with our clients and their pets." She is passionate about working with clients to educate them on how to optimize their pets health. "Our time with our pets is too short. We can give someone another quality year or two with their pet by focusing on wellness and prevention of disease. We have the tools to use our scientific knowledge to integrate the best of what Western and Eastern medicine have to offer."
Dr. Kucia lives on site in Millbury with an array of critters. Currently, there is a variety of chickens, goats, cats, fish and miniature schnauzers. While we are not a petting zoo we don't discourage you visiting our family. If you need cheering up or just a good laugh feel free to bring along veggie snacks for Justin and Enzo. They happily put on a good goat show for food!
Prior to veterinary school, Dr. Vicki Kucia attended Mount Holyoke College and graduated Magna cum laude, with a major in Biology and a minor in Chemistry and Education. She was awarded a Student Leadership and Service Award and the Kathryn M. Eschenberg Incentive Award for Excellence in Biology.
Additionally, she has a Associate of Science from Manchester Community Technical College in Medical Laboratory Technology. During her studies at MCTC she received numerous awards including Salutatorian and Treasurer's Award. She also is  board certified as a Medical Laboratory Technician by the American Society of Clinical Pathologists.
Impressively, she is one of the elite scholars who is inducted into the Phi Zeta Honor Society, Phi Beta Kappa Honor Society, the Phi Theta Kappa Honor Society and the Eta Mu Lambda Honor Society.
Dr. Kucia is always attending continuing education seminars to stay current in veterinary medicine and to offer clients more options for their pets' wellbeing.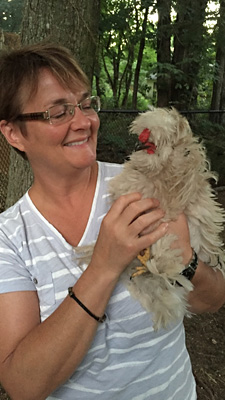 While currently busy managing a respiratory care center in human medicine, Dawn lends a hand at WagMore Veterinary Care as much as she can. She always has a smile and will roll up her sleeves and do any task large or small to make your experience with us meaningful. Whether helping you out to your car in the rain with an umbrella or sharing a hug after a sad appointment, you will appreciate Dawn's deep level of caring and committment to you and your pet.
A lifelong lover of all creatures big and small, Dawn's compassion for animals is appreciated by our patients and their families. "I am so very proud of WagMore's mission and patient care. I can not wait to see the impact this practice and amazing team has on veterinary care in the area!"
Known locally as the "crazy chicken lady" you will find her excitement for chickens is contagious. When coming or going to WagMore Veterinary Care, keep an eye out for a group of very happy hens and you will have met "Dawn's Divas"! If you are in the area stop in and try a dozen of the best eggs ever!!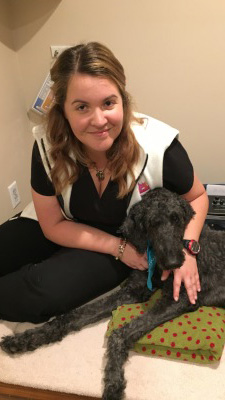 Jennifer joined WagMore Veterinary Care after Dr Kucia saw one of her friend's pets off hours. WagMore instantly liked Jen's generous smile and compassion for animals. Jen instantly realized her passion was to work with animals and WagMore was an awesome place to work, learn and grow in the veterinary field.
As a member of Team WagMore Jen is the smile behind the phone, the face behind the emails, the first to say hello and the last to make sure all your needs have been met. She is a valuable member of WagMore and will take excellent care of you and your pet. She will schedule your appointments, fill your prescriptions, order your food, send you reminders when your pet is due and take care of all those little details so all you have to do is relax and enjoy your pet.
Jen's love and care of all things big and small started as a child. Jennifer's earliest childhood memories were of her grandparents' farm in Puerta Rico. She remembers playing with the goats and pretending to be one of the chickens. As a child she would find injured animals left by the neighborhood cat and care for them in her shoe box hospital. One day Jennifer's mother found a bat in her room. "Sadly this led to the closing of my shoe box hospital, but not before I had cared for a pigeon, a chipmunk, a gerbil, a baby bird — and a bat." Jennifer's dream is to own her own farm and start a rescue for farm animals.
Jennifer attended Mount Wachusett Community College. In 2002 she transferred to Mount Ida College where she earned her BS in Funeral Service and Management. She was selected for the honors program, made it to the Dean's list every semester, and became a member of Pi Sigma Eta (National Morticians Fraternity) Honor Society.
Jennifer began her first career in Human Services 2006 and continued until 2016. She started as Residential Counselor for two years before switching positions to be an Educational Counselor at the Doctor Franklin Perkins School.Before joining WagMore she was a Day Program Coordinator supervising day and relief staff, teaching groups, managing client schedules, providing daily counseling and training all new staff. In 2015, she was awarded the Division Diamond Award for excellence.
Jennifer lives in a busy household taking care of her three children — Destiny, Colby and Aeden Jack along with her two cats — Catloaf, her senior tuxedo and Lucy, her calico trouble maker. She also has a very special relationship with a special Corgi named Darcy.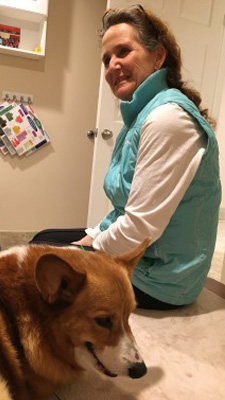 Faith joined WagMore Veterinary Care after coming to Dr Kucia for years of acupuncture treatment for her aging Shiba Inu, Biba. After the loss of her beloved Biba, Faith recognized a need at WagMore where she could help other owners and their pets with their acupuncture therapy. Faith started with Dr Kucia on a blanket and the floor and has watched WagMore grow and florish. In doing so, she began a new chapter in her life and enjoys fostering a deep connection with WagMore's clients and their pets. WagMore cannot thank Faith enough for all she does.
As a member of the WagMore Veterinary Care team, Faith does it all! She is the genius behind our awesome facebook posts and started fun fact Friday. You may also encounter her answering your emails and phone calls; making client appointments and assisting Dr. Kucia with patient care. She has a gentle manner and wants to make sure you're happy and that your pet can't wait to come back!
Faith has lived in association with animals all her life. She grew up on a Morgan Horse Farm in southern Massachusetts and spent her summers in New England showing Morgan Horses. After finishing college, Faith returned home to run the family farm, Quail Run Morgans in West Barnstable, MA. While involved with Quail Run, she raised and started many foals, including two future world title holders.
Faith holds a Bachelor of Science in Communications Disorders. She worked in Chatham, Massachusetts, at the elementary school, as part of the reading specialist team. For Faith, who loves to read, this was a dream job and she continued to work at the school 11 years.  While working, raising her two boys, and caring for her three fur kids, Faith remained connected to the animal world. Her favorite dog breed is the Shiba Inu. She joined Northeast Shiba Rescue (NESRA), where she volunteered for ten years, including four years when she served as vice president. During this time she adopted two more long term fosters into her pack.
Faith now lives with one fur kid, a Shikoku (another Japanese breed she learned about thanks to her work with Shibas), named O'ikon Miyako or Koko as Faith's friends call her. Faith loves this girl with all her heart! WagMore loves Faith's care and compassion and are confident you will too!